Finally finally upload!! Yippie!!!
Here's the swatches!!
Highly recommend this!! Frankly I think this palette better than urban decay naked palette, colour wise is more, this palette contain of 20 pigmented shadows and it include 10 lipgloss with high pigment. Pretty shadows from natural tones to basic smokey look.
Top roll left to right
Bottom roll left to right
Beautiful colours right? Swatches are apply without primer. Love love it! Everyone should get one.
Let's look at the lipgloss, it's thick and pigmented and comes with various colour nudes, pinks, orange and pink.
Colours are applied from left to right.
Other than this palette, I get some round lipstick which I love the colours too! I'm tat kind of girl only with nude pinks lipstick, I like colours which is more neutral and with a hint of pink.
Let's see the swatches!
LSS529 Thalia
Definately one of my fav lipstick cos it's nude pink and it look natural not too heavy on me. Goes well on any look.
LSS628 Tea Rose
Hint of orangy with pinks definately is a good combination with gold shadows or browns.
LSS621 Milan
Pinkish nude, this colour have more of nude than pink. Suitable for smokey looks or bright eyes makeup :)
LSS565 B52
Orangy, reds, nude lol sorry I'm not good at describing colours.
LSS620 Paris
Super pink lipstick. It's like a hot pink but slightly darker. Suitable for natural look makeup.
Alright, how would I missed my black label lipsticks? Heehee
Remember I told u guys my favorite lipstick is sephora 18 lipstick and NYX black label of dusty rose and bling? Oh my gosh!! This colour I'm gg show u is something in between. Hehe another nude pink lipstick.
BLL115 Heiress
This definately goes to my fav lipsticks as well!! One of the reason I like nude pink lipstick is cos its nice and it goes well with any makeup look. Maybe not all but most.
BLL196 Hot temale
Redish nude, with a hint of orange. Goes well with pin up makeup.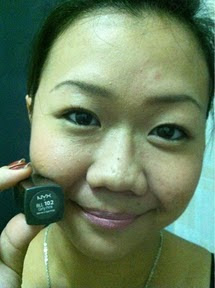 BLL102 Girly pink
Shimmery baby pink, goes well with smokey or bright eye makeup.
Alright, if u want to ask me what's the different between NYX round lipstick and NYX black label lipsticks, I could say, other than pricing wise, black label lipsticks are more moisturizing than round lipsticks, dont mistaken me, round lipsticks are not dry but it's only not as moisturizing as the Black label, round lipstick are still moisturizing though, both to me are equally high pigmented lipsticks, if u have dry lips, I would recommend u go for the black label but if u have normal lips, u definately should go for round lipsticks cos they are selling good price. :) And u can get a decent amount of range of different colours rather than one.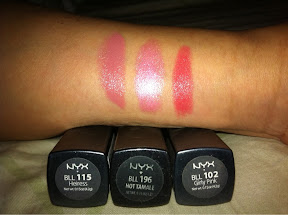 I got 2 blushes, not really in love but it's pigmented and can be use for daily basis.
PB16 chocolate moose
Nude colour with a hint of satin like a nude highlighter, but it's definately can be a contour powder for those who has white skin or it's good for blending lighter ur blusher if u over heavy hand application on ur face.
PB01 Mocha
When u open the package u will like "WOW" so red! But do apply on a light light feather hand. It's pigmented and u don't need to apply heavy hand. Less is more. Apply little by little. U don't wanna look like red apple, don't you?
Yeah!! That's pretty much my haul, I'm planning to have ELF haul same like this one. What do u think?
Subscribe me on YouTube an follow me on twitter too! Love ya!
See ya soon!
With love, Candy
- Posted using iPhone